Bodybuilding Warehouse
Premium LUX Protein Flapjack
By | 8th February 2016, 01:06 pm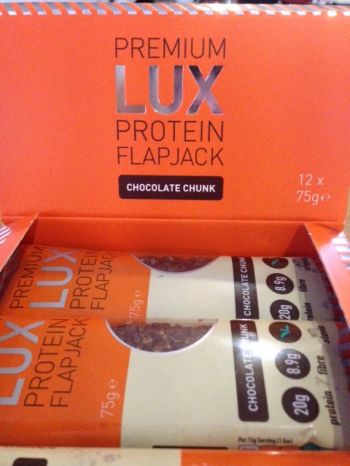 Taste
These high protein flapjacks are a real treat. Bodybuilding Warehouse have packed their new Premium LUX Protein Flapjacks with chunks of real white chocolate, and adding a delicious taste and texture to the honey toasted oats. Soft in texture and now half way through a second bar, it's safe to say that they're seriously moorish!
Nutrition
Each 75g flapjack bar contains 20g of protein, derived from Milk Protein and Hydrolysed Gelatine, so they're not suitable for the vegetarians of this world. The 33.5g of carbohydrates (3.4g of which sugars) are in the shape of Rolled Oats and Toasted Oats, containing Honey, Malt Extract, Sugar and Vegetable Oil, the added ingredients used in the process certainly more beneficial to taste than the nutritional value of these protein flapjacks. The large content of oats ensure you're also getting a large dose of dietary fibre - 8.9g per bar.
Each bar contains 248kcal of energy and 4.2g of fat (1.4g of which saturates) making it an ideal snack for consumption between meals, whether your goal is for lean muscle building or weight loss.
The team at Bodybuilding Warehouse have flavoured their new protein flapjacks naturally, using Fructooligosaccharide, Cocoa Powder and Stevia. It's also good to see that they've avoided including palm oil, a hidden nasty seen used quite regularly in protein bars and flapjacks, that's neither healthy nor good for the environment!
Timing
Being a relatively low calorie, low fat and low sugar flapjack, they're ideal for consumption on-the-go and in between your meals. The low GI energy source also makes them a strong option for consumption approx 1-2 hours ahead of training.
The summary of this review is simple, try these for yourself and quickly find them a staple in your diet, because at £14.99 (£1.25 per bar), they're incredibly reasonable priced!