LA Muscle
LA Whey Gold
By | 21st January 2016, 09:22 am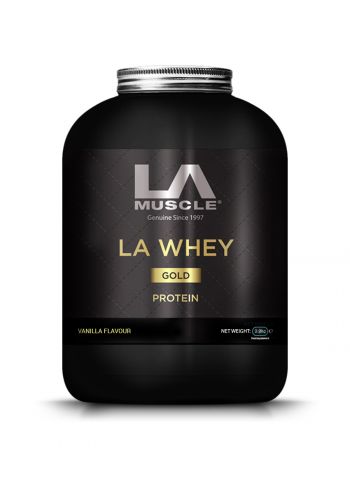 Award winning LA Whey Gold is one of LA Muscle's flagship products, a pure whey protein concentrate that's been flavoured with Stevia, instead of the more commonly used Sucralose or other artificial sweetener, thus delivering a 100% natural whey protein supplement. LA Muscle have been around in the sports nutrition market for quite some time, established back in 1997, and its testament to products like LA Whey Gold for their strong presence on the bodybuilding scene for almost two decades!
Taste
As previously mentioned, LA Whey Gold is flavoured using Stevia rather than an artificial sweetener. This sits well with us here at Compare Proteins, and we believe the market as a whole should be shifting to a 100% natural mentality. Stevia is a natural plant extract and isn't as sweet as other artificial sweeteners, which results in a more neutral and believe it or not, natural tasting protein shake. We find that other protein shakes can be extremely sweet, and so a more subtle yet still very tasty protein product gets the thumbs up! After a brutal workout a sickly sweet protein shake can make your stomach turn, but LA Muscle have got the flavours nailed down on LA Whey Gold.
LA Whey Gold is available in 6 flavours; Banana, Chocolate, Mint Choc, Strawberry, Vanilla, and their new release and industry first, Champagne!
Nutrition
LA Whey Gold is a whey protein concentrate and the serving suggestion delivers a whopping 49.6g of protein! Each double scoop shake will also yield 7g of carbohydrate (3.6g of which sugars), 5.2g of fat (1.9g of which saturates) and 256kcal. The protein itself is triple filtered using a patented CFM (cross flow microfiltration) process, resulting in an extremely pure product.
Timing
As a whey protein, LA Whey Gold will be absorbed quickly so you'll benefit from this product by bracketing your workouts. We'd recommend taking a single scoop serving 30-60 minutes pre-workout, and a double scoop (49.6g of protein!!) serving immediately post-workout. This will ensure a constant supply of muscle building amino acids around your workout for continued protein synthesis to repair and build lean muscle tissue.
If you're looking for a premium protein shake, look no further than LA Whey Gold. Winner of 'Best Protein Shake for Hard Gainers' in the Men's Health Supplement Awards, you can be sure of a quality product. Flavoured with Stevia, you'll be avoiding any artificial additives and rewarded with a smooth and natural taste that doesn't cause any stomach upset. Available in 2.2kg tub and more economical 5kg pouch, and finally, you can't ignore a huge 49.6g of protein per serving!