Myprotein
Impact Whey Protein
By | 17th February 2016, 05:27 pm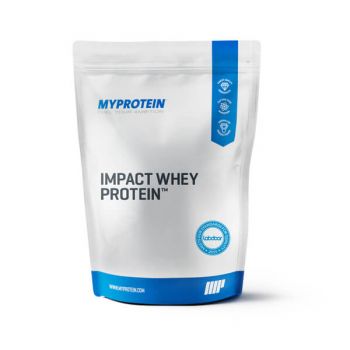 Myprotein's flagship and best-selling product has long been Impact Whey Protein, as it's great value and premium quality. Myprotein were the first brand to really bring protein supplements to the masses, and now claim to be Europe's number 1 sports nutrition brand. We put Impact Whey Protein through testing, to see if it's all it's cracked up to be…
Taste
Myprotein have a ridiculous array of flavours to choose from – from Stracietella, Lemon Meringue and Mocha, to best sellers Chocolate Smooth and Strawberry Cream – we hope to work our way through over the coming weeks (and maybe months!).
We found the mixability of this pure whey protein concentrate to be spot on, with no lumps at all – perfectly light and smooth.
Stracciatella – this is a really creamy and sweet flavour, and subsequently quite heavy. Because of this, not ideal after a heavy gym session when something lighter is preferred, but is works well into smoothies and protein fluff. 5/10.
Chocolate Smooth – not sickly sweet like other chocolate protein powders we've tried before, Myprotein have delivered a really solid chocolate flavour. 8/10.
Nutrition
Impact Whey Protein is a pure whey protein concentrate, plus sucralose (sweetener) and any natural colouring. The protein content will differ depending upon the flavour, as each flavour will require different levels of flavouring to taste accordingly. Myprotein caveat their nutritional information by advising the values can differ by up to 10%. The nutritional values we'll be sharing, are those of the unflavoured version.
Timing
Whey protein is absorbed quickly and is therefore best taken immediately post-workout to enhance recovery, feeding your muscles with the amino acids they need to rebuild and repair, as soon as possible. It's also often recommended that you ingest a whey protein shake 30-60 minutes pre-workout, and then again at any other time in the day when you go without food or protein for longer periods of time, for example upon waking following sleep.
Impact Whey Protein is a quality protein powder at incredible value. We have a fantastic relationship with the guys at Myprotein, so please check our TV Offers page as we regularly feature exclusive offers and voucher codes for you to get even better value on this whey protein powder.