Myprotein
Protein Cookie
By | 25th January 2016, 03:06 pm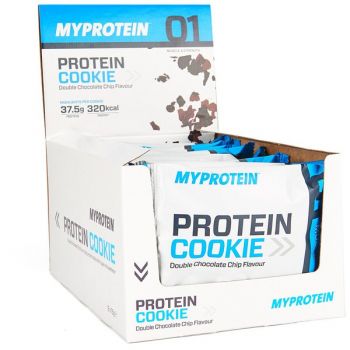 Protein Cookies are a delicious and convenient high protein snack, ideal for on-the-go consumption. Similar to the more commonly produced protein bar, the protein cookie is very similar in nutritional value, but as a soft cookie and so is an excellent alternative to protein bars and protein shakes.
Taste
Protein Cookies come in seven great tasting flavours; Chocolate Mint, Chocolate Orange, Double Chocolate, White Chocolate Almond and their latest additions of Oatmeal & Raisin, Cookies & Cream and Rocky Road. Favourites here at Compare Proteins are Cookies & Cream and Oatmeal & Raisin, however must admit that they were all incredibly tasty and rather moorish! Cookies and Cream was luxurious and chocolatey, whilst the Oatmeal & Raisin had a lovely sweetness and notes of cinnamon.
In our experience, we find many protein bars can be incredibly dense and chewy, often leaving you with an aching jaw! This isn't the case with Myprotein's Protein Cookies, which are in fact soft in texture, much like you'd find with a freshly baked cookie.
Nutrition
As well as delivering on taste and texture, nutritionally they stack up too, with 37.5g of protein per cookie, 70% less sugar and 40% less fat than a standard supermarket cookie. The protein source used to jack up the protein content is Milk Protein, Hydrolysed Gelatine and Soy Protein and therefore aren't suitable for vegetarians. Each cookie yields around 320kcal and given the high protein content, certainly fills a gap and promotes satiety as an ideal in-between meal snack.
Timing
Consume as a high protein nutritious snack in-between meals to increase your daily protein intake. Incredibly convenient for use on-the-go and as a great tasting supplement around your training.