Myprotein
Protein Mocha
By | 2nd February 2016, 07:20 am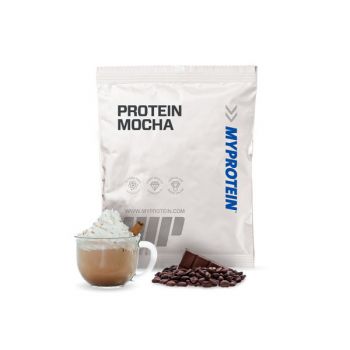 For so many, coffee is an absolute essential upon waking, a staple in their morning routine to enable both mental and physical function. Caffeine is the key factor here, and Myprotein have rather cleverly combined caffeine with protein and with chocolate flavouring, three key ingredients that really do tick the boxes, into one single drinkable product:
Protein Mocha
! Could this be your new go-to 7am wake-up hit? Here's what we think...
Taste
Myprotein advise mixing with either water or milk in a protein shaker before pouring into a microwavable mug. We opted for full fat milk during testing, and naturally this is going to have an impact on the taste. The result was a chocolatey sweet hot beverage, but the coffee flavour was very subtle from the instant coffee they've included, and this may be because we used milk instead of water - milk of course adds natural sweetness.
Nutrition
The protein sources used to deliver 15.9g of protein per cup (25g) of Protein Mocha are Milk Protein Concentrate, Micellar Casein, PeptoPro and Skimmed Milk Powder, which will essentially deliver a slow release of amino acids, aside from PeptoPro which is rapidly absorbed. This is a nice combination for a morning or day-time drink supplement as a sustained supply of protein.
1 cup of Protein Mocha also contains 4.4g of carbohydrate (4.3g of which sugars), which is naturally derived from the lactose in the proteins, plus the added cocoa powder for flavour. This is also the source of the minimal 0.3g fat content (0.2g of which saturates), and each cup yields just 84kcal.
Myprotein explain that each serving of Protein Mocha contains 10% instant coffee which will provide 80mg of caffeine per 25g serving, so depending on how responsive to caffeine you are, will depend on whether this product will indeed have the desired mental and physical energy boosting effect.
Timing
Generally you'd expect to consume a coffee or a mocha in the morning and during the day, as caffeine has a relatively long half-life which takes around 6-8 hours to clear the system. This said, as previously mentioned each cup contains 80mg of caffeine, which for most isn't an awful lot and may therefore be less likely to interfere with and have a negative impact on sleep if consumed in the evening.
To summarise, this product isn't going to deliver a caffeine hit like you'd receive from a strong black coffee, so this isn't for you if that's what you're looking for. However, the combination of protein and chocolatey sweetness, warmed up in a tasty beverage, is great! It's pretty cold out there at the moment as we're in the middle of winter here in the UK, and a lovely warming cup of mocha really does hit the spot, and as we sit here sipping our cocoa coffee fusion in the know that we're also feeding our muscles with over 15g of protein in this single cup, well that really does make us smile!
Get 20% off Myprotein Protein Mocha using our exclusive code! Unlock the code here. Offer expires on 14th February 2016.