Science In Sport
WHEY20
By | 12th January 2016, 02:04 pm
SiS WHEY20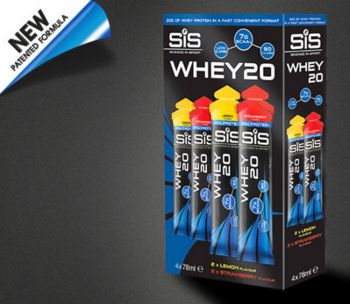 "When you're busy and on-the-go, getting the right amount of protein post-training can be difficult. WHEY20 is 20g of protein that can be thrown in a kit bag for anytime, anywhere."
These are the words printed on the back of the box that contains 4x WHEY20 protein sachets, priced £7.99 (mixed flavours). You can also choose a box of 12x WHEY20 in your preferred flavour; Lemon or Strawberry.
"WHEY20 provides an innovative protein delivery system without the need for a shaker or water that is low in carbohydrate and contains 7g of BCAAs."
And Science In Sport have achieved just that with their brand new product WHEY20. Honestly, we were sceptical about this product before testing, unsure of how they'd manage to squeeze 20g of whey protein hydrolysate into a 78ml sachet and deliver a palatable flavour and texture. We were expecting a synthetic gel like substance, but oh were we wrong...
Taste
WHEY20 is essentially a protein yoghurt, very much like the popular tube yoghurts you'd find in a child's lunchbox, but with the added hydrolysed whey protein. Available in both strawberry flavour and lemon flavour, there is no synthetic taste or aftertaste present, and they're actually a delight to consume given the smooth texture.
Nutrition
Each 78ml protein sachet packs a 20g hit of hydrolysed whey protein with just 1.8g of carbohydrate (1.4g of which sugars), 0.1g of fat and a measly calorie total of just 88kcal. Very impressive nutritional breakdown.
Other ingredients include; Quark (Milk), natural flavouring, acidity regulator (Citric Acid), stabiliser (Pectin), sweeteners (Sucralose, Acesulfame K), preservative (Potassium Sorbate). WHEY20 is suitable for vegetarians and as with all SiS products, has been produced in an Informed-Sport accredited facility.
Timing
SiS instruct you to consume WHEY20 within 30 minutes post-exercise or as a high quality snack. This is perfectly fine, however we would add that this is a more than efficient intra-workout protein supplement. Hydrolysed whey protein is rapidly absorbed and is rich in BCAAs (7g per serving). Couple this with the incredibly convenient method of consumption you get with WHEY20 - straight from the sachet - as well as the low 78ml volume which is very easy on the stomach with zero gastric distress, for us it's absolutely ideal!
To summarise, this isn't the cheapest of protein supplements available on the market today (£2 per sachet serving), however in terms of convenience and quality, it's right up there, and in fact we can't think of a superior product in terms of ease-of-use. You have to try this for yourself to believe us that they really do taste great (strawberry is our favourite). Careful though, you may find yourself slugging them down a little too regularly - stick to intra/post-workout, and your muscles will thank you for the much needed, rapidly absorbing hydrolysed whey protein, rich in BCAAs!